March 22nd, 2011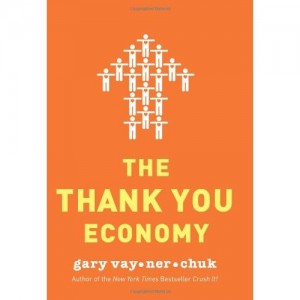 In @garyvee 's most recent book, The Thank You Economy, Gary makes a compelling argument for the use of social media.  If you know of Gary you know that he has been a huge proponent of social media – despite hating the term 'social media' – and he has had a strong and steady rise into the spotlight.  The Thank You Economy, TYE for short, is the essence of all of his bravado, condensed into an easy-read book that you'll work your way through in a matter of hours.  I give this book an 8 of 10 and would classify it as a long-form personal opinion (with a dash of how-to type talk and examples).
The good news is that people that have not followed Gary and the social media trend (or have and don't buy into it yet), this book is a great summary.  Unfortunately, the opposite is also true.  If you are a true fan of Gary and you follow his tweets, talks, Wine Library TV (now Daily Grape), Facebook (yes, he got /gary), etc. then this book will not hold any surprises.  It will still be entertaining and may motivate you to some extent to go get after it, but it will not share some massive new insight that was heretofore unknown.
Regardless of your exposure to Gary, the book is an interesting read with a unique perspective on the social media landscape – told from somebody on the bleeding edge of the trend and by an individual who couldn't believe more in its power.  He references the very well known Old Spice craze and shares his thoughts on how businesses need to get back to the basics.  He often reminisces about old-school ("your grandparents generation") ways of doing business, where they always knew your name.  Back when shopping was an intimate experience and a place where people met.
Oddly, it is an amazing parallel as people now share more than ever on websites and websites know more and more about an individual with every click.  In a very real sense the 'shopkeepers' do know you by name.
I actually found the most interesting part of the book after the conclusion in the area titled "Sawdust".  Here you get a rapid fire series of topics, some as short as one line, that Gary provides his opinion on.  For any Gary Vay-Ner-Chuk fan(a Vaniac) this is a part of the book the really rings true.  You can almost see him jumping from topic to topic in his trademark over-the-top ultra-sure manner that makes him so engaging to watch.
What are your thoughts on social media?
This has been a Thought From The Cake Scraps.