August 24th, 2011
Circles are all the rage with Google Plus but, as any usability person will tell you, they are a pain to manage.  That is why the Groups option in Facebook never got much traction.  You have to be dedicated to keeping the lists current and managing the settings on the pages.  Google tried to address this issue by forcing you to add people to a circle, but it is still a pain and still rather confusing.  Facebook just took another stab at it.
I say just look at how people currently use social services and make a solution that solves this issue.  Hint: it is not this silly all-in-one view that both Facebook and Google Plus have taken.  The answer is right in from of them and the interfaces solution lies with Hipmunk.
In Hipmunk you can create several searches in a tabbed view while remaining in the same browser tab.  The searches may be similar, but obviously different as well.  The key is that you have a central place to manage multiple threads, each thread in a unique tab.
When you look at the social landscape there are clear breaks.  Facebook is for family and friends.  Twitter is for the masses.  LinkedIn is for work.  All are social; all are distinct.  The answer is one interface that blends all of it together in a central place with unique tabs.
Circles and groups fail because you manage where you share it at the end of the sharing process, right before you click share.  Think about how much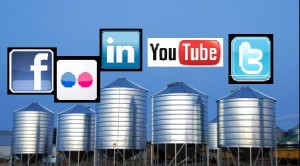 easier it would be to share to "Google+Professionals", "Google+Friends", "Google+World".  Sure, have the concept of Circles live within this interface.  Make it so you can share on +Friends and add the +Work circle to the "Share With" list.  Have a Limited Profile list etc.  The point is that by creating an interface that makes is unmistakably clear where you are sharing people can effectively manage their online presence.
Then bring it all together by having a central stream where the content flows into and make it clear (w/ an icon) where the post was originally shared from (+P, +F, +W or something cool).  Or, maybe you don't need a central stream.  Maybe that's what people say they want, but they don't actually want it.  Maybe the solution is that people naturally silo themselves into distinct groups and providing a central tool that allows them to select the silo they wish to view is the answer.
Google Plus is so close to this with the mandated Circles concept but still falls short.  Get people to a central place to manage these different aspects of their life first (look
at the success of TweetDeck).  Then focus on how people would like to see them integrated, if at all.  Right now I see these companies trying to solve for a problem (a central place for everything) which doesn't seem to have much demand while they ignore that people want – to separate certain aspects of their life into silos.
Hipmunk has it right – give us tabs.  One place, many views, and a central place to manage to distinct aspects of my social presence.
Does that sound like something you'd use?
This has been a thought from The Cake Scraps.