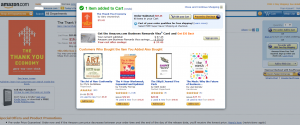 I am pretty excited today because I am in a test group of the new Amazon.com "Add to Cart" process.  Instead of serving up a new page they are doing an overlay of the page you are on, a much better experience in my opinion.  As a web analyst I can't help but wonder what sort of impact this is having on their conversion metrics.
It is clear they are testing it because a search on twitter for "Amazon new add" yielded only a few results, but it looks like more are coming in.  They must be opening up the gates a little bit since launching it a few days ago.  Perhaps as early as 9/26 for some users.  New stuff on one of the biggest e-commerce sites on the Internet is fun stuff!  We'll know how it is working for them based on if they roll it out to everybody over the next few days  or weeks.  This would be key to have up before the holiday shopping season kicks into full gear.
As a side note (as you can tell from the image), I can't wait for Gary Vaynerchuk's new book – The Thank You Economy.
Do you have the new "Add to Cart"?
This has been a Thought From The Cake Scraps.