Originally Posted:Â 4/17/2013 6:55 PM Â 
Today Johnson was able to host a fantastic group of individuals that are part of the Bibimbap Backpack organization. This was a highly anticipated event by many members of the community, a sense that was only heightened by its prominent location in the atrium, the heart of the Johnson community. Fortunately, we had a beautiful and sunny day here in Ithaca to welcome them.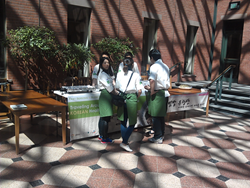 One of the 6 organizers, Sang Mi Lee, spoke with me before the event and offered an introduction of what to expect. She did an amazing job of helping me understand what the Bibimbap Backpackers were out to do. Shortly after, the event opened with a presentation by Su In Lee, where she shared the background of the organization (as well as that she was up at 5AM making our dessert, Hotteock)!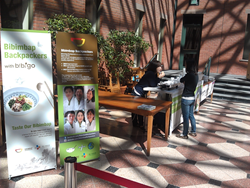 The organization is still young, just 3 years old, but has been to over 15 countries since starting in 2011. This year they are focusing on top MBA programs across the country and the vibrant area of Silicon Valley to help introduce "leaders of the future" to this wonderful dish.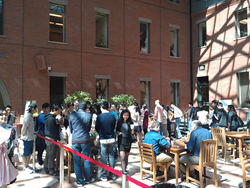 I have never had the experience of sampling bibimbap, so I wasn't sure what to expect. I can certainly say, if you have the chance you should check this event out. The dish takes care of "Five a day the color way" which encourages the consumption of 5 colors of vegetables every day: black (mushrooms), green (spinach/beans), white (sprouts), yellow (egg), and red (carrot).  Besides looking great, it has a fantastic taste as well. The rice base, combined with the crunch of fresh vegetables makes for a satisfying mouthful. Top that off with the sweet and spicy magic sauce gochu, mix it up, and you have yourself a delicious, healthy, quick, and easy meal!
I can certainly see why Johnson was so excited about the event. We had a lot of fun and it, interestingly, really embodies the Johnson spirit by promoting "harmony, peace, friendship, coexistence, and cooperation; where each ingredient is unique but comes together to create a new flavor".
They can count on one thing: this future leader's opinion is that I'd take seconds!
Part of a series of my re-postings of my blog for the "Life @ Johnson" section of the Samuel Curtis Johnson Graduate School of Management at Cornell University MBA program website.