Originally Posted:9/24/2012 8:48 PM
As you can imagine every now and then people need a break to have some fun, and Johnson never comes up short in that respect. Â From the weekly socials in the Atrium to the daily coffee breaks, there is always opportunity to step away from the books for a moment (even though you may end up talking about it anyway, at least you're up and moving around.
Here is a quick snapshot of a few of the big events from the last week, Cornell's homecoming!
To start things off there was a fantastic lecture by Eric Schmidt. Â The event that I went to (pictured below, from the 3rd row) was a 30 minute talk with Q&A. Some very lucky members of my class actually had a much longer conversation with him as he presented in one of the classes at Johnson. I wasn't there, but I heard that it was fantastic.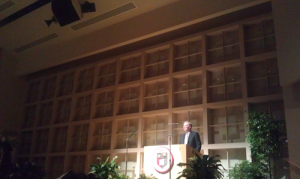 Next up was the homecoming tailgate that Johnson and the alumni association hosted. While it rained a bit in the morning, since we had a full tent it didn't stop the party!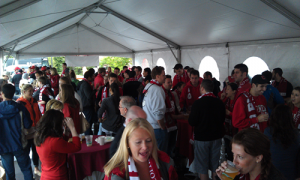 Next up the actual football game! We pretty much dominated from early on, which made it a lot of fun to watch. Â All sorts of free Cornell gear was distributed and people were having a great time. Â I do have to admit that I didn't stay the whole time though because I had other things to do….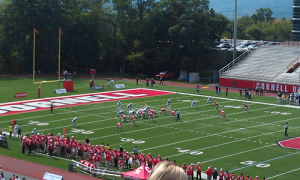 Those other things happened to be supporting the Johnson Rugby team! Â This match was just versus another Cornell team, but a week or two ago they played NYU and dominated.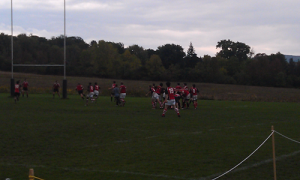 Back to the books now – we have finals for the first set of our core classes starting next week and a few other projects in the mean time. Â Like I said, always stuff to do here in Ithaca, but there's also always stuff to get back to.
Part of a series of my re-postings of my blog for the "Life @ Johnson" section of the Samuel Curtis Johnson Graduate School of Management at Cornell University MBA program website.