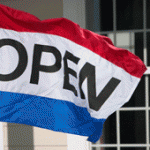 I enjoy a drive through the countryside every now and then.  There is something that is just relaxing about it.  You just get to cruise along, maybe have the windows down and the music up.  If you are lucky then you have a few hills and turns to keep things exciting.  And if you are in the right spot, at the right time of year, you may even stumble across a home selling whatever happens to be in season.
Often times these places have handmade signs listing what is being sold and what price it is being sold at.  Perhaps there is also some obnoxious arrow pointing you up the driveway.  And if they really have it together, they may have a flag waving in the wind with the word "OPEN" on it.  That will really get people to stop in…or will it?
When I see an "OPEN" flag I cannot help but wonder if the place is actually open.  Do they really take it down each day?  What about when I drive by after suppertime and the flag is still displayed?  Should I assume that they are still open for business?  It seems like a good idea to have the flag, but I'm just not sure how genuine most people think it is.  Oddly enough, I think that a cardboard sign will actually help because I know that can't be left out very long before it falls apart.
Another idea would be a light.  If I see that there is a light on the flag or sign, then I am more likely to believe that it is in fact open.  All of this is interesting, but it paves the way for a broader issue: credibility.
A home shop with a cardboard sign or "OPEN" flag has plenty of credibility.  A light that is turned on and off has credibility.  The problem is the open flag always looks the same.  It is always there.  Nothing is ever different.  The owners are not considering what leaving the flag up might do.
In the current business environment, this is a critical issue.  How credible are your promotions (because everybody is running them)?  Are you running the same thing over and over?  This will work just fine for a short amount of time, but make sure that you have an exit plan.  Even if you take pause for just a week you rebuild credibility.  You rebuild a scarcity factor.
If the "OPEN" flag isn't always up, then I know that I had better stop in when it is up because otherwise I may miss my chance.  There is no urgency if there is always a sale.  I can't stress this enough: Small things, the 'scraps' as I like to call them, matter.  Leaving the flag out and the promotions running may be the easy path, but sometimes it pays to take the path less traveled.
Do you believe "OPEN" flags?
This has been a Thought From The Cake Scraps.